If you're looking for a brand new top of the range Fender Stratocaster or Telecaster you'd have already noticed that there's a huge difference in the price between the Fender Custom Shop models and the range topping Masterbuilt guitars. In some extreme cases they can be double the price! Why buy a master build Strat if you could walk out with two team built models? In this short article I look at the differences, what extra you get, and is it worth the jump in price?
Fender Masterbuilt
A Fender Masterbuilt guitar has typically been built from start to finish by one person, a master builder. Each master builder is identified on the guitar where a decal of their signature replaces the Custom Shop logo. Some years ago the marketing team at Fender had the brilliant brainwave to make celebrities out of their staff.
They realised that players and collectors coveted guitars from the companies past and keen collectors knew the names of many of the staff from stamps inside neck pockets and markings on pickups. Models and parts that were from certain historical staff members become more desirable and Fender realised that selling the brand of their people was a clever move.
Today many of the master builders are household names among Fender enthusiasts and guitars from the most legendary builders like John Cruz now have huge price premiums attached to them. Much like a piece of art appreciates hugely in value after the artists gains more popularity and kudos.
The 2023 line up of Fender Master Builders
Dale Wilson
Paul Waller
Jason Smith
Yuriy Shishkov
Todd Krause
Dennios Galuszka
Greg Fessler
Kyle Mcmillin
Vincent Van Trigt
Austin McNut
Andy Hicks
David Brown
Levi Perry
Masterbuilt Fender Guitars
The guitars themselves are expected to be significantly better than a typical team built model so the master builder will lend more of his time and attention to ensuring every last detail is spot on. Woods will be personally selected, checked for tonal properties and then every aspect of the build will be carefully undertaken to ensure a stunning result at the end. I have noticed that things like fret ends are often a bit better finished off on the master build models, a marginal thing that can sometimes make a big difference.
It's worth remembering that the legendary vintage Fenders from the pre CBS era were all production line instruments, the guitars were designed specifically for mass production rather than skilled craftsmanship. So a hand built Fender goes against the premise of the original concept slightly but in my opinion a masterbuilt Fender Custom Shop Strat tends to beat most pre CBS models hands down. Although there will certainly be people who will strongly disagree with this statement.
Team built Fender Custom Shop Guitars
The team build models are built on a production line in the custom shop and will typically use better woods and parts than the normal USA production models. There is certainly a huge amount of attention to detail on these guitars and they are superb instruments. Each one would have had a large handful of very skilled staff working on it, some will become master builders in the future. As an aside, I sometimes find 'John Cruz' stamps inside guitars built in the days before he was a master builder and these always sell more easily as a result!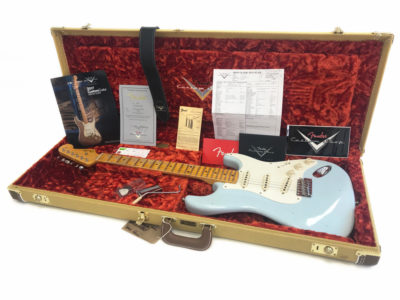 Masterbuilt vs Teambuilt models – how do they compare?
Over the years I have handled, played and listened to hundreds of Fender guitars. When they have passed through my hands I've tried to experience as much about them as I can. There is no doubt that Fender Custom Shop instruments are seriously good instruments, and a big jump up from the USA production line models. There are however always inconsistencies, I always say that each guitar must be taken on it's own merits. No two are exactly the same. There is little doubt in my mind that the masterbuilt versions definitely offer a little something on top, maybe 10 – 15% better than a normal Custom Shop.
That being said, I have had some team built Custom Shop guitars that were so good that they easily could have been masterbuilt models. One example would be the 60th Anniversary 1954 reissue Relic Stratocasters from 2014 which were released as a limited run. Noted by some as the best guitars the custom shop ever made, sold as a limited edition but masterbuild quality.
What about resale value?
As I mentioned earlier, the price premium for a masterbuilt Fender is significant. At the time of writing a brand new Relic floats around £4300 – £4600 whereas the equivalent Masterbuilt version is £7300 – £8000. When selling used examples I am typically selling Team built Relics 25% lower than the new price whereas pre owned Masterbuild models will typically command a price 32% lower than the new price. While that may seem like a lot of depreciation it's still better than most other brands of top end instruments.
Do they make good investments?
As a long term hold and something to enjoy they are certainly a good store of value. They are rare and desirable and as the price of new models continues to rise so too will the value of used examples. They aren't easy to liquidate quickly for their full value though. Financially there are certainly better investments out there but very few that are as much fun as owning a Master Build Fender.
In conclusion
To sum up I would say that in my experience as a seasoned collector and trader in used guitars that the Masterbuilt Custom Shop models are generally better than their team built cousins. Are they twice as good? No, but they are a good couple of notches up the scale and if you're that person who just has to have the very best then they are worth the extra money. There is something quite satisfying knowing that you've made no compromise and have the best of the best of the best in your hands. They are a pleasure to own and experience. If you buy them used then you won't suffer much if any depreciation and in todays turbulent economic world they are probably a better store of value than cash! Go on treat yourself, you know it makes sense.